Draft Budget is opportunity to reverse college funding cuts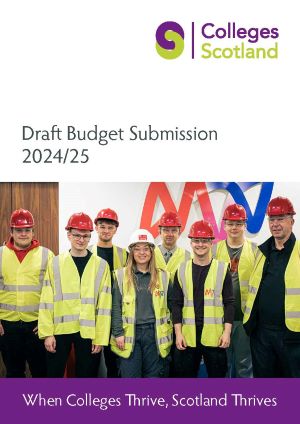 Colleges in Scotland are calling for funding to be restored to pre-pandemic levels in the next Scottish Government Budget.
Colleges Scotland is asking for the 8.5% cuts imposed on colleges in recent years to be halted, and reversed. The Draft Budget comes to the Scottish Parliament on 19 December.
A recent report from Audit Scotland shows that Scotland's 24 colleges have had 8.5% in real terms - £45.5million in core funding to run colleges – removed from budgets since 2021/22.
Shona Struthers, CEO of Colleges Scotland said: "Funding for colleges is dropping each year in real terms. It is time to recognise the critical importance of Scotland's 24 colleges, which are part of the public sector, and invest in them now to stop the slide of funding cuts.
"We are asking Ministers to be realistic about where investment brings returns, for Scotland's economy, communities and for individuals. Colleges bring a brilliant return on investment – recent research* has shown that the £740million invested into colleges in 2021/22 will boost the Scottish economy by over £8billion.
"Restoring adequate funding to colleges would bring benefits to learners, businesses and communities, which is what this government has pledged to do."
The full funding submission to the Scottish Government from Colleges Scotland - pdf Colleges Scotland's Draft Budget Submission 2024-25 (783 KB) .
Funding cuts to colleges have come as students are still grappling with the cost-of-living crisis, employers reporting skills shortages in multiple industries, and with college graduates needed to tackle major challenges in the health service and around the climate emergency.
Another challenge highlighted ahead of the Draft Budget is the estimated cost of making colleges wind and watertight and suitable for modern learning, which is £775million.
Shona Struthers said: "The buckets-in-corridor culture has to come to an end. We've asked over many years for a plan to come forward which will see colleges refurbished in the same way that schools have been. This hasn't yet been produced, and all the while colleges are without the means to adequately maintain their own buildings.
"To repair existing campus spaces and get them to a basic state of wind and watertight, and then replace buildings which are past their suitability, is estimated to cost £775million. This number will keep on growing as unfortunately buildings do not improve over time - maintenance and upkeep are basic, vital tenants of operating a learning space. It's unfair that college students and staff have to learn and work in inadequate spaces."
ENDS
Notes to Editors
The Audit Scotland 2023 Colleges Report demonstrating a 8.5% cut to college funding. Colleges Scotland calculates to remedy the drop in funding would be £57million - less student support funding - which is 'money in money out' so are asking for £45.5million to rebalance core funding.
The full Draft Budget submission for 2024/25 -

pdf

Colleges Scotland's Draft Budget Submission 2024-25

(783 KB)
For further information, please contact:
Jen Johnston, Head of Communications and Public Affairs
Mobile: 07736 885 497
Email Jen Johnston