Latest News/Media Releases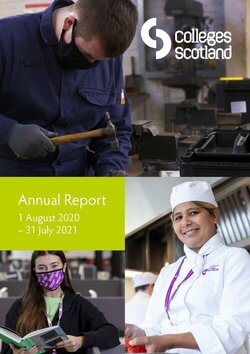 Colleges Scotland has published its pdf Annual Report for 2020-21 (724 KB) .
Colleges Scotland is proud to serve the college sector and has been actively working on its behalf throughout the year.
The Annual Report highlights just some of the key activities and achievements in the areas of policy, communications, and employment services.
By Shona Struthers, Chief Executive of Colleges Scotland

As the leader of Colleges Scotland, the membership organisation for all 26 colleges across the country, there are questions which I'm frequently asked not just about the here and now but also about the future. What kind of further and higher education provided by colleges do learners need? How can colleges support students holistically so that they can be successful learners? And as organisations, what do colleges need from our funders – the Scottish Funding Council (SFC) on behalf of the Scottish Government – to enable efficient delivery of the world-class education, training and skills colleges offer?
Read more: Priorities from the SFC Review - Chief Executive Blog
Shona Struthers, Chief Executive of Colleges Scotland, has joined the First Minister Nicola Sturgeon in welcoming college students back to learning and teaching for 2021.
In a video released today (Friday, 10 September 2021), the First Minister highlights the importance of students returning to colleges as an important part of the recovery from the pandemic and urges students to get vaccinated.

The new academic year sees tens of thousands of students starting new full and part time college courses across Scotland, many entering further and higher education for the first time.
Read our full comment: pdf First Minister Welcomes Students Back to College - Friday 10 September 2021 (132 KB)