Colleges Scotland's Vision
Colleges Scotland aims to be at the heart of a world class college sector that is recognised, valued and available to all.
Colleges Scotland's Mission
Colleges Scotland is the collective voice of the college sector. We will support and champion the sector by leading and influencing policy, enhancing and maintaining strong partnerships, and demonstrating the positive impacts of the sector.
Strategic Plan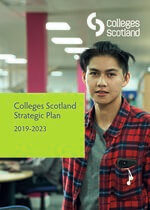 pdf Colleges Scotland Strategic Plan 2019-23 (312 KB)
Annual Report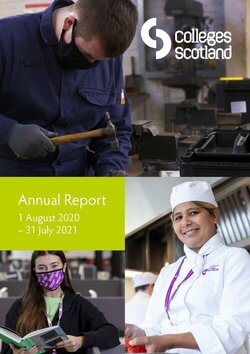 Colleges Scotland has published its pdf Annual Report for 2020-21 (724 KB) .
Colleges Scotland is proud to serve the college sector and has been actively working on its behalf throughout the year.
The Annual Report highlights just some of the key activities and achievements in the areas of policy, communications, and employment services.
Within the About Us section is:
Colleges Scotland, Argyll Court, Castle Business Park, Stirling FK9 4TY
Colleges Scotland | Company Limited By Guarantee | Registered in Scotland No: 143210 | Scottish Charity No. SC023848